An awesome journey
Hard work and big dreams
We started our journey as a custom website development service, crafting unique digital experiences for clients. But along the way, we realized that there had to be a better way for everyone to create websites.
Why is that, even today, building a website is still messy, frustrating, and time-consuming, even for the most basic websites?
We took the plunge, shifted gears, and decided to develop a product that could revolutionize the web creation process. Our mission? To provide a simple, efficient, and downright enjoyable way to build websites. We knew it wouldn't be easy, but we thrive on challenges. Late nights turned into brainstorming sessions, coffee fueled our code, and laughter was our constant companion.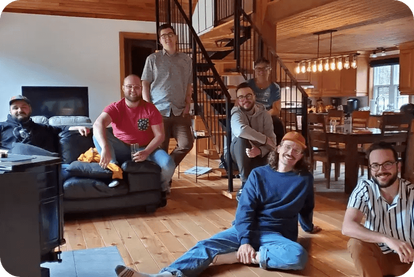 Why is that, even today, building a website is still messy, frustrating and time-consuming, even for the most basic websites?
Funding secured
Built to last, ready to grow
Today, RubberDuck stands as a testament to our determination and passion. It's not just a tool; it's a mindset. With RubberDuck, building a website is a joy, not a chore. We've harnessed cutting-edge technology and combined it with user-friendly design to give you the power to create websites that stand out in the digital landscape.
We are excited to announce we've secured funding that allows us to invest in the future for RubberDuck. We're here to last and grow, continually improving our platform to meet your needs.
Our journey is just beginning, and we're excited to see where RubberDuck takes us and our growing community of users.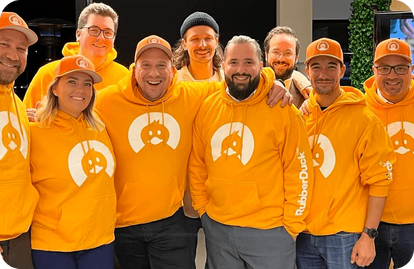 As a young startup, we're acutely aware that RubberDuck isn't perfect, and there may be occasional bugs or inconsistencies. However, we're eager to work closely with our users to identify and address these issues promptly. Your feedback is invaluable, and together, we'll continue to improve RubberDuck, making it an even more exceptional website creation tool.
Looking ahead, we're excited to share our vision for RubberDuck's future. Our roadmap includes exciting developments such as more third-party integrations, an expanded library of website templates and e-commerce capabilities. We're committed to staying at the forefront of web development, and your journey with RubberDuck is set to become even more dynamic and powerful.
RUBBERDUCKING ?
The rubber duck method, also called "rubber duck debugging" or "rubberducking", consists of explaining a programming problem to a rubber duck in a meticulous way and out loud.
This exercise helps to highlight inconsistencies and solve the programming problem.
The name is a reference to a story in the book The Pragmatic Programmer in which a programmer would carry around a rubber duck and debug their code by forcing themselves to explain it, line-by-line, to the duck.

Partnerships
Supporting the next generation of entrepreneurs